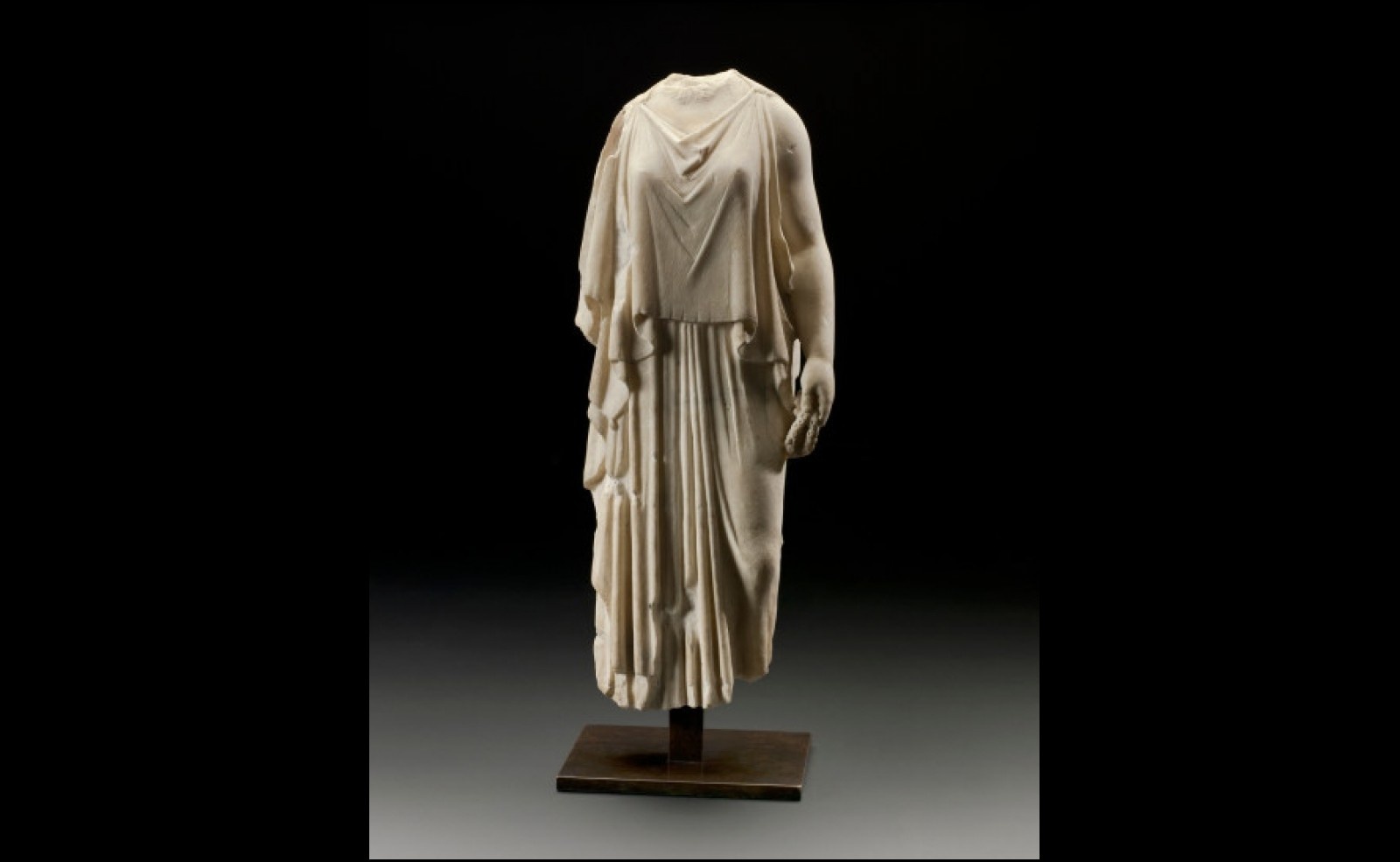 Many of you will be familiar with Princeton Museum, and be aware that it has recently closed to undergo a complete rebuilding. The new museum, designed by Sir David Adjaye, is set to open in late 2024 and will provide a sweeping new display of the collection, including, we hope, this Roman marble peplophoros statue, one of several items we have sold to the museum over our past 50 years.

The sale, however, involved some sleuthing before it could be concluded. Although we understood that the marble had been published in a French journal prior to 1970 we had no idea when that might have been.

It was in the solid, silence-filled library at the Victoria and Albert Museum, where, turning the pages of old copies of magazines now gathered in heavily bound volumes, I had my eureka moment. There at the side of a grainy photograph of a room set I could just make out our peplophorous statue, proving that it was in a collection already by 1960. Swipe to see the evidence!

Roman peplophoros statue, Neo-Attic, 1st century BC-1st century AD
Fine grained marble
Height 45.5cm

She stands with her weight on her right leg, the left leg breaking the strong vertical folds of her Doric peplos which is pinned at the shoulders and falls loosely over her body. A narrow border is indicated along the edges of the garment, and a small weight hangs from the third fold of the peplos's upper section. In her left hand she carries a garland of flowers.

The term Neo-Attic is used for sculpture that harks back to originals of the earlier Greek Classical Period. Much of this revival work was made in Greece for export to Rome. This example recalls the 'severe style' of 470-460 BC. The garland of flowers is likely a symbolic offering.

Provenance:
Private collection, Paris, France; acquired 1950s
Princeton University Art Museum, USA; acquired from Charles Ede in 2016

Published:
Connaissance des Arts, Sommaire 101, 'Quatre décorateurs exposent leurs idées' (July, 1960), pp.48-51, a review of the annual 'Salon des arts ménagers' where it was featured in a room-set on the theme of 'quarante siècles de création'.